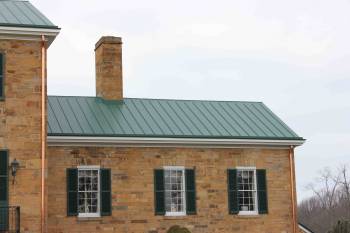 Metal roofs are very costly and due diligence and proper research is needed when choosing a company to installed it. We will provide you with as many references as you would like, and if you are thinking about a certain color please let us know and we will be able to give you addresses of houses that we have installed with that same color.
We are a small company and have been serving customers for over two decades. We look forward for the opportunity to talk with you and meet with you about all of your metal roofing needs. We offer our services throughout the greater Northern Virginia area. Our specialty has become standing seam metal roofs and stone coated metal roofs. These type of roofs are energy efficient roofs that are replacing many of the older roofs in Virginia. Please visit our products page for more information about standing seam and stone coated metal roofs.
When choosing a company to install your metal roof you need to know a few important items to be confident that they will install the highest quality roof without having to worry about costly mistakes that will lead to leaks in the future. Here are some good questions to ask when looking for a quality company to install you metal roof.
1.In the last ten years how many metal roofs have you installed?
We have installed over 500 metal roofs in Northern Virginia.
2. Do you have the same crew that installs all your metal roofs?
Yes we have the same crew that we have had for over a decade now.
3. I would like three references, one from five years ago, three years ago, and last year.
This is not a problem, we have over 13 years of customers that we can give you as references.
4. When you give me an estimate is that the real final price, or will there be add-ons during and after the construction process?
We only give Price Quotes which include all the final costs of the metal roof and other related items. We then will take that Price Quote and put it into our contract with no hidden fees or costs.
5. I know contracts are important but I don't want to sign a 13 page contract that I don't understand.
Please do not sign a contract that you don't understand, and don't worry we have a one to two page contract without a lot of lawyer language that is hard to understand.
6. Will you be able to tell me how many days my job should take?
Yes, we will give you a start date and an end date, and unless weather such as rain or winds stalls the date we will complete your job in the allotted time. An average metal roof job can take about 5 days depending on the size of your roof.
7. Once you start my job will you pull off at any time to start another job or do repair work to another job?
No, Once we start your job we will not pull off your job until we are finished.