Albermarle Metal Roofing
In a county so rich with history from remnants of the Saponi tribe to Thomas Jefferson's estate of Monticello, Albermarle, Virginia is a wondrous sight to behold. With just a cursory glance down the Rivanna River, it is clear how much the architecture of this region has changed over the years with its enchanting mix of historic and modern buildings. For those unversed in the subtleties of architectural styles, it isn't necessary to look any further than the rooftops of Albermarle County for a cursory understanding of the changes.  Looking also to the gorgeous albermarle metal roofing that has been installed by the artisans at Alpha Rain, you can see what an impact they have had on the area.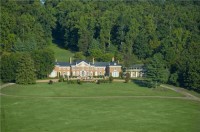 From the Victorian-stamped shingles or metal roofing of yesteryear to the solar-powered systems or pre-painted metal roofs of today, a myriad of styles dots the tops of Albermarle's structures from above. There is also a clear need for able professionals to maintain the roofs on historic homes as well as provide quality roofing on newer structures. Alpha Rain has been meeting those needs for decades and looks forward to servicing Albermarle, Virginia for many more.
The professionals at Alpha Rain have a thorough understanding of how the appropriate roofing can affect the value and aesthetic appeal of a residential or commercial building. Whatever a particular building may require, Alpha Rain knows how to properly provide the shingle, solar, or metal roofing needs. From stone-coated metal roofing to standing seam metal roofs and every type of roofing in between, its friendly professionals service every part of Albermarle County from Barboursville to Scottsville.
Feel free to call the helpful staff of Alpha Rain to schedule an appointment for a free consultation about your unique roofing needs. With twenty years of experience in satisfying Virginia clients with the installation of metal, solar, and shingle roofing, you can trust the job will be done to your specifications. As always, we strive to make our estimates easy to understand without professional jargon to confuse you or hidden costs to surprise you after the solar, shingle, or metal roofing job is done.