Virginia Green Homes – Affordable Green Home Technologies VA
Energy Efficient System with Virginia Green Homes
Few years ago in some locations such as Northern New England, Mid-West and in the South, the metal roofing systems were used particularly for industrial and commercial buildings. But this time the standing seam metal roof has evolved from industrial and commercial to residential purposes. In fact, it is a modern architecture roofing system for homes as a premium choice. The quality is reliable and long lasting which makes all your money's worth. Once the standing seam has been correctly installed, you don't have to worry about further maintenance and repairs on the roof itself with the exception of having some flashing checked. This type of roofing system comes with several materials such as galvanized, galvalume, aluminum, copper, and zinc. There are also galvalume coated steel, cool roof energy star rated colors and designs.
Project
But you have to keep in mind; however, that metal roofing is not exactly a (DIIY) "Do It Yourself" project. In order for you to achieve a state-of-the-art roof, what you need is experience and a master in the trade. The job of Metal Roofing requires you to have a special training that takes years to have basic knowledge on the subject matter. Yet again, the experience can only be acquired by doing the actual project and working with other professional contractors who have been in this kind of trade for a long time.
Standing Seam Concept
A particular area is raised each time there is a joining metal roof panel which creates the structure of the roofing system that is called as the seam. These seams are connected to each other by way of the roofing panels being seamed together which allows the water runoff in the most fashionable and safest way. The standard seams are actually a part of the metal roofing panel themselves and cannot be ordered separately and should be installed by a qualified knowledgeable metal roofing installer that has more than just a few year experience.
Metal panels
In order for a properly installed metal roofing system moisture needs to be addressed and considered. You will need to make sure the qualified installer installs a vapor barrier beneath the metal roof. The vapor barrier needs to be able to breathe allowing the vapor from the moisture that is made by condensation of the metal roofing to escape. This vapor barrier will create a protective underlaymentunder the roof which preserves the longevity of the metal and keeps any unwanted moisture off of the roof decking. In addition, this makes sure that your roof can withstand all kinds of weather.
Metal roofing system are becoming more and more popular particularly for residential homes since this kind of roofing material is durable and looks good. It is a cost-effective roofing system and eco-friendly.
Alpha Rain Incorporated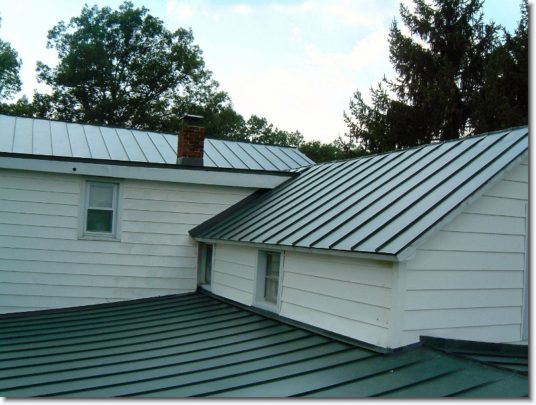 Therma Vent is a legitimate expert in the ventilation of metal roofing. Theyare committed to developing affordable green home technologies serving for several years with the design and creation of America's most energy efficient ventilation system. We Alpha Rain have been installing metal roofing for over a decade and a half and have never used or seem such an amazing energy efficient ventilation system for metal roofing. We have not installed dozens of installations with the same results of amazement by the home owners which is always unbelief of the change in their attics and homes climate inside. We have changed attic temperatures from 150 degrees down to 103 with the install of this new innovative ventilation system that is installed underneath our metal roofing.
So, if you want to increase the value of your home with quality roofing system, you'll be sure to check us Alpha Rain out a metal roofing company.