Revolutionized Metal Roofing and Ventilation System VA
Modernize Your Ventilation System with Alpha Rain Inc
Roofing is an essential part for every home. It protects you and your dear ones against the harmful UV (ultraviolet) rays, heavy rains, hurricanes, and snowstorms. If you do decide to upgrade or modify your roof, you can never go wrong with metal roofing.
Metal Roofing VA
Metal is considered one of the toughest materials you can find. Initially, metal roofing installation comes with a higher price compared to other roof materials such as asphalt shingles. But, when you think about your asphalt roofing in the long run, you'll find out that this kind of investment makes no sense considering the average asphalt roof lasts only 15-20 years.  Where as an average Metal Roof will last 5 times that, (yes 100 years).  We remove old tin roofs that are 110 years old.  Yes, metal roofing is indeed expensive, but when it comes to longevity, this kind of house investment is really practical. In addition, it increases the value of your home.
Home Enhancement and Benefits
As homeowners, we definitely love our homes and it gives us the sense of satisfaction when our house attains desirable looks. There are wide varieties of metal roofing designs and choices that will surely match your taste.
Home Attic Insulation
According to the Department of Energy, home attic insulation is one of the most vital components. Improper insulation can cause air leakage which waste electricity consumption. It allows the hot temperature during summer to penetrate. This requires an energy efficient roof ventilation system in order to control the heat.
Metal Roofing and Ventilation System VA
We, Alpha Rain Incorporated the metal roofing company have been installing metal roofing in most areas of Central and Northern Virginia for over 15 years. From our experiences, we observed that newer homes have a big problem when it comes to high temperatures in the attic even though they have industry standard "proper ventilation." Therefore, we developed a patented under metal roofing ventilation system which stops all three ways heat is transferred called the Therma-Vent.
Why Alpha Rain Inc.?
The Therma-vent has the option to use an optimized MTO custom solar powered DC fans that let the fresh air come into the attic and lets out the hot that gets trapped inside your attic. Our vent fans powered by solar allows you to have the privilege of reducing your energy consumption and allows you to produce natural energy.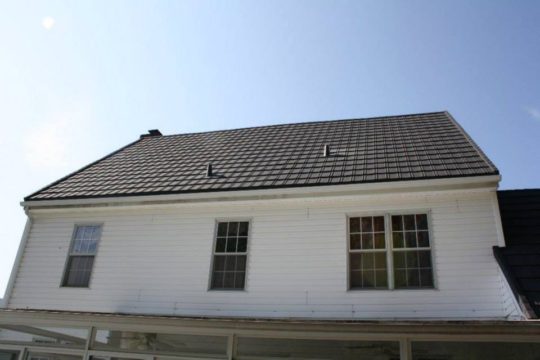 When the solar panels receive the most direct sun levels, the Therma-vent fans will spin faster which allows fresh air to penetrate inside. When we install a metal roof with our own Therma Vent System it will decrease the heat in the attic from 30 up to 45 percent in you attic. Our metal roofing VA has a superior reflective property which reflects more of the sun's rays that minimize the temperature in the roof.
We strongly believe that our competitors in the industry will not be able to match our great results and superior quality. Alpha Rain Inc. is a top notch steel roofing company in Virginia with 35 years warranty on coating from peeling or fading.