Orange VA Metal Roofing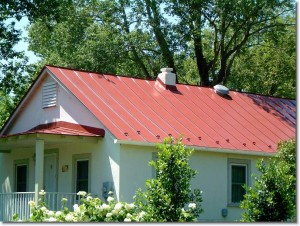 Phone 540-222-1642 we are Alpha Rain The Metal Roofing Company.  Alpha Rain has developed a new innovative Energy Efficient Roof Ventilation system for Metal Roofs in Va, we are putting this patented roof ventilation system on many homes in the Orange VA area.
In fact we just installed one not too far down James Madison Highway.  The results were impressive, by installing are under roof ventilation system on with our standing Seam Metal roof, the hottest day in the summer which was over 90 degree outside I went into the attic and is was the same air temperature at the base or floor of the attic and at the top it was only near the upper 90s.  This is what we see about 8 degree difference in temperature from the floor to the top of the attic.
Most attics we see have temperature well into the 160-170 degrees, and once we install our ventilation system along with a metal roof we see those temperatures drop to near 103 degrees.
Below we have our information and contact info, and also below that I have a link to the Metal Roofing Alliance where you can find contractors, more than just us Alpha Rain.  We believe that competition will not be able to provide you products like are under metal roof self-ventilation system, optimized custom solar powered fans designed for you attic and roofing system, but we leave it up to you the customer to decide you self.
Take a look at the video below, you can also contact us by phone 540-687-0603 or by email info@alpharain.com or AlphaRain.com 
Please take a look at our video titled Orange VA Metal Roofing
For more info please fill out our form below and I will contact you.
 The article was made for the zip codes of 22960
Thanks for reading Orange VA Metal Roofing