Finest Metal Roofing Virginia
Deciding to take a huge home improvement project is not a simple decision. One important factor that you need to consider is the roof. A residential metal roofing price and installation must be evaluated carefully. Even though it may seem the price of metal roofing is initially pricey it can actually reduce your expenses in the long run.
Metal Materials
You have to figure out on how much money are you willing to save or set aside for your roofing project. There are standing seam metal roofs made of Galvalume steel which will not rust. The most popular type of Metal roofing in Virginia is the standing seam metal roof which has vertical panels that are connected to each other with a double lock seaming system that will not leak in the seam. Another option is the metal shingles which are made from copper, aluminum, stone coated metal or Galvalume.
Price
The cost of materials and installation may vary depending on the size of your home and the type of materials used. The final expenses shall be determined on how large the area and it normally ranges 2-3 times more expensive than the average asphalt shingle roof for your home.  You might be thinking that the expense would be cut down by doing the installation yourself. You may save money on labor cost, but you will experience technical difficulties and complications when it comes to installing your metal roof yourself. Remember that this is not just a typical roofing project like asphalt shingles that only needs a nail gun and razor knife.  In order to install a standing seam metal roof you will need a costly roll former machine to make the metal roofing panels which cost tens of thousands of dollars, and the double lock seaming machine will cost over 6 thousand dollars.
Money's worth
You have to consider if it's worth the money when thinking of making this kind of investment. One thing is for sure, you will not have to worry about replacing your roof within the next 80-100 years, so when thinking about this kind of investment you must think long term. Metal roofing can last 80-100 years while others like asphalt shingles will only last an average of 15-20 years. Therefore, having metal roofing will be one of the greatest best decisions you'll ever make in the investment of your home. You can save money on lower energy bills, and sometime can get a lower insurance rate as well.
Alpha Rain Incorporated metal roofing Virginia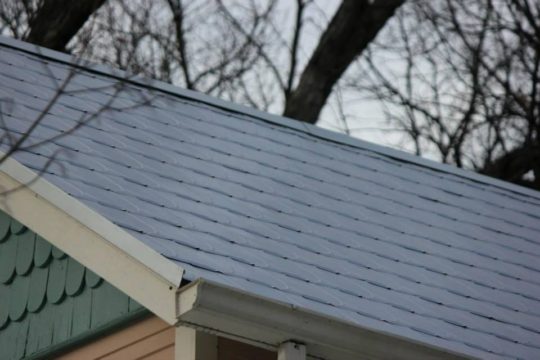 We Alpha Rain Incorporated specializes in metal roofing in central and northern Virginia, we offer our exclusive metal roofing with our patented under roof ventilation system. Our Therma Vent system will reduce the attics temperature from 25-40%.
Our patented ventilation system is designed, to reduce the heat in your attic by stopping all three ways that heat is transferred by Releasing, Reflecting and Controlling the heat. We also have the option to add solar powered fans, this allows the hot air from the inside of the attic to flow outside and let the fresh air from the outside comes in through the bottom at our vented soffit drip edge. Our Therma Vent system exhausts the hot air from the attic and the under roof ventilation openings in order to maximize the release of the hot air.
We strongly believe that our competitors in the metal roofing industry could not provide the same optimum quality and customer satisfaction that comes with reasonable prices. We Alpha Rain Inc. are a part of the Metal roofing alliance which provides relevant roofing information. Get the superior metal roofing and ventilation system in Virginia here.