Old World Metal Roofing Crozet VA
Old World Metal Roofing Crozet VA
We have created a patented roof ventilation system for Metal Roofing Crozet VA. We installed out new patented Ventilation system on a home with a new roof as well.  We tested the temperature and it was 96 degrees outside and then we test the temperature in the attic and it was near 149.5 degrees, then once we installed the ventilation system along with a new roof we then waited a few weeks for a day that was 96 degrees and then we went up in the attic and tested the temperature and it was 103 degrees in the hottest part of the attic.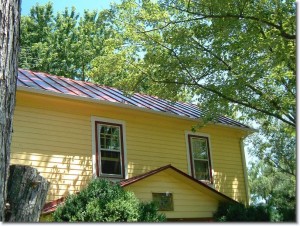 These results have never been seen on a system that is affordable and where the ROI makes dollars not just cents. We have been researching this type of ventilation system for over 9.8 years and the biggest problem of the systems that we used to install was that they were mainly made up of wood, and that cost quite a bit to install.  Even though that old system did get some ventilation results it just cost too much.  Our new ventilation system called the Therma Ventilation system does not use wood at all and most people find it reasonably priced.
Listed below we have our contact critical info, also shown below I provide a site to the Metal Roofing Alliance. This is exactly where you can choose contractors, more than just us Alpha Rain. We believe that our rivals will definitely not have the ability to render you products or services similar to our patented under roof Venting system, or our custom made solar small ridge fans, or our Zero leak W Valley, merely among others. We leave it up to you the potential client to choose for yourself. Have a glance at the youtube video in this article named Metal Roofing Crozet VA.
We are a part of the Metal Roofing Alliance as listed above, which is a great place to get more standing Seam metal roofing information. Please Contact us for more information or for a free estimate for Metal Roofing Crozet VA, or if you live in or around, Covesville, Lake Monticello, or any other part of Central Virginia, Scottsville, or Charlottesville.  Please speak with us for rates on your new Tin roofing.
Summary
Author Rating





Aggregate Rating
no rating based on votes
Brand Name
Alpha Rain Metal Roofing
Product Name
Therma Ventilation System
Price
USD $2.00
Product Availability
Pre-Order Only