Middleburg VA Metal Roof Installation
Middleburg VA Metal Roof Installation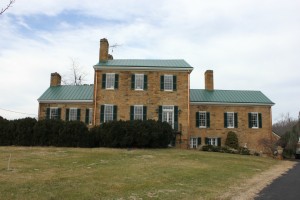 Phone 540-222-1642 we are Alpha Rain The Metal Roofing Company.  We are installing a Metal Roofing job in Middleburg VA, near Round Hill VA and north of Upperville VA.  We are installing a Standing Seam Metal Roof on a House that had an old Standing Seam Metal Roof.  This is during the installation and shows how the process works.  Sheffield Metals is the manufacture of the pre-pained Galvalume metal.
We have been specializing in metal roofs for over a decade and a half and have created the nation's leading ventilation systems for metal roofs.  That is why you will see at the bottom for a link to the Metal Roofing Alliance where you can go and find other metal roofing companies along with our, we know that what we offer in Metal roofing, such as a W valley and our above mentioned Under metal roof ventilation system there is not another installer that offers what we offer, and we want to prove it to you by having our competition show you what they will.  Then compare that to what we have created and offer and you make the choice.  A informed customer is our best customer.
 Bloomfield VA is the exact location of this video, which just south of Middleburg VA and is South of Purcellville VA.
Below we have our information and contact info, and also below that I have a link to the Metal Roofing Alliance where you can find contractors, more than just us Alpha Rain.  We believe that competition improves what we offer.
Take a look at the video below, you can also contact us by phone 540-687-0603 or by email info@alpharain.com or AlphaRain.com  
Please take a look at our video titled Metal Roofing Middleburg VA Installation
 [mom_video type="youtube" id="9uajDW5jcqA" width="400″ height="300″]
For more info please fill out our form below and I will contact you.
The article was made for the zip codes of 20117, 20118.
Thanks for reading Metal Roofing Middleburg VA Installation