Metal Roof Solar Marshall VA
Metal Roofing Solar Marshall VA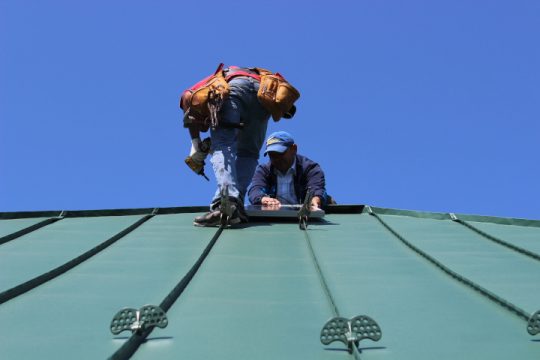 Phone 540-222-1642 we are Alpha Rain The Metal Roofing Company. We are showing how you can use solar in your everyday life.  Solar helps us keep our batteries charge on the job site and at our shop.  I will show a working solar panel that is covered in snow.  Most people think that if there is shading or something covering a solar panel that it will not work at all.  We Alpha Rain Metal Roofing we show a live recording that disproves this thought.  Our sister company Virginia Green Solar also installed complete solar power systems on your home.  540-222-1642 ALphaRain.com Our Solar Roof system has been a great success, our customers are enjoying better energy savings as well as enjoying pure green energy with their solar roof. 
Solar is a great option on metal roofing because we do not have to cut or screw through the metal on a standing seam metal roofing system.  We install solar panel quite often with our custom powered solar fans.  If you are interested in solar please contact us.
Below we have our information and contact info, and also below that I have a link to the Metal Roofing Alliance where you can find contractors, more than just us Alpha Rain.  We believe that competition will not be able to provide you products like are under metal roof self-ventilation system, optimized custom solar powered fans designed for you attic and roofing system, but we leave it up to you the customer to decide you self.
Take a look at the video below, you can also contact us by phone 540-687-0603 or by email info@alpharain.com or AlphaRain.com 
Please take a look at our video titled Metal Roofing Solar Marshall VA

For more info please fill out our form below and I will contact you.
The article was made for the zip codes of 20175, 20176.
Thanks for reading Metal Roofing Solar Marshall VA