Metal Roofing Leesburg VA
Metal Roofing in Leesburg VA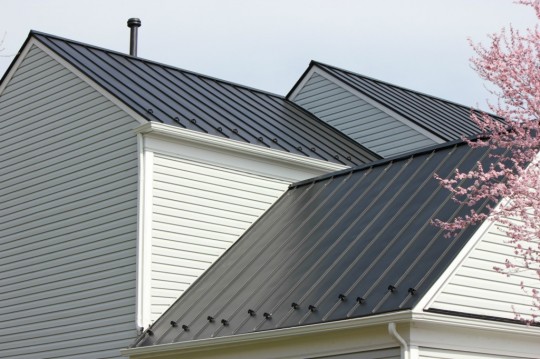 Phone 540-222-1642 we are Alpha Rain The Metal Roofing Company.  We are going to talk about Snow Birds for Metal roofs, also known as snow guards.  We will talk about if there is enough snow each year to even consider snow birds, and how they are installed on standing seam metal roofs.
Quite a few of our customers choose not to installed snow birds due to the cost.  They are expensive, they are $25 each.  We have ours powder coated which should last the length of the paint on the metal roof which is 35 years, if you spray paint or brush paint them the paint will come of the first snow or ice that we have.  Getting back to if you need them in Leesburg VA, after the two snows we had in the winter of 2009 and 2010 most of the customers that choose to not have snow birds installed had most of their gutters damaged and lots of shrubs and bushes below damaged or kill when the snow or ice came failing down.
In conclusion in Leesburg you need snow birds, every few years we get enough snow that it would do more damage to gutters and other bushes around your house to pay the money up front to get them installed.
Take a look at the video below, you can also contact us by phone 540-687-0603 or by email info@alpharain.com or AlphaRain.com
Please take a look at our video titled Metal Roofing Leesburg VA
For more info please fill out our form below and I will contact you.
The article was made for the zip codes of  20175, 20176.
Thanks for reading Metal Roofing Leesburg VA Article