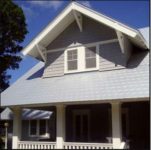 These were developed for restoration applications to match the authentic appearance of nineteenth century metal roofing shingles.  These metal shingles bring a vintage look to your beautiful home.
Standard
With Basic Features
35 Year Paint Warranty
Types Include Barrel Tile, Wood Shake, Slate
200 MPH wind Rating
Class 4 Impact Rating
Class A Fire Rating
Advanced
All Features of Standard
Vented Ridge
Custom Vented J Channel
Eave Cold Air Intake
Vents the attic
Reduces attic Temperatures
Therma Vent Platinum
All Features of Standard & Advanced
Patented Under Roof Ventilation
25% Reduction in Energy Saving*
Stops 3 Ways Heat is Transferred
Radiant Barrier 97% reflectivity
Thermal Break
* 25% reduction seen in some homes, your particular home might very Depending on age the home was built and building practices used, and If any updates have been performed on the home.
*Some Attic very depending on conditions of the home and way it was constructed consult with your Alpha Rain Ventilation expert for more information about how the Therma Vent system would work on your specific home.