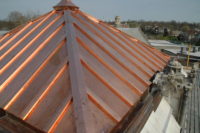 Copper offers a character and durability that no other metal roof can match. Its appearance can complement any style of building, from the traditional to the modern. Its warmth and beauty make it a preferred material for many architects. The use of copper is based upon traditional practices proven over many years. There are numerous examples of copper roofs which have been in place one or more centuries. Copper's resistance to the elements ranks among the highest of modern roofing materials.
When properly designed and installed, a copper roof provides an economical, long-term roofing solution. Its low life cycle costs are attributable to the low maintenance, long life and salvage value of copper. Unlike many other metal roofing materials, copper requires no painting or finishing.
Standard
With Basic Features
Lasts Hundreds of Years
1" Double Lock Panel
200 MPH wind Rating
Class A Fire Rating
16 Ounce Copper
Advanced
All Features of Standard
Vented Ridge
Custom Vented J Channel
Eave Cold Air Intake
Vents the attic
Reduces attic Temperatures
Therma Vent Platinum
All Features of Standard & Advanced
Patented Under Roof Ventilation
25% Reduction in Energy Saving*
Stops 3 Ways Heat is Transferred
Radiant Barrier 97% reflectivity
Thermal Break
* 25% reduction seen in some homes, your particular home might very Depending on age the home was built and building practices used, and If any updates have been performed on the home.
*Some Attic very depending on conditions of the home and way it was constructed consult with your Alpha Rain Ventilation expert for more information about how the Therma Vent system would work on your specific home.