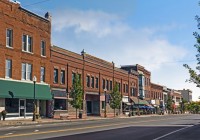 Ever since George Washington adopted Alexandria it has been a beautiful example of historic architecture. From the original slate roofs to the "newer" termed tin painted roofs, to now the pre-painted metal roofs, this nostalgic tobacco port has kept its old world charm.  Having survived the busy 19th century modernization that affected most other downtown's, this 3rd largest Historic District in the U.S. has kept many of its original early 18th century homes in their original condition.
One of the reasons there are so many original homes and row houses in this part of Alexandria Virginia still standing is an early law our founding father's passed in the early 1700's. The law stated that all common walls of these row houses could only be constructed of brick. These Fire walls were way ahead of their time and were the main reason that fires didn't spread very far.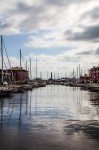 As you consider replacing or upgrading one of these historic roofs to a newer type metal roof, let our competent staff guide you through the many pitfalls you will face when keeping the historic nature of your home and still including the latest in ventilation, radiant and thermal break technology.
We will even assist you as you visit the Alexandria area historic Architectural Review Boards for permission to "upgrade" using their approved methods and materials. We will also be happy to introduce you to the many satisfied homeowners who have depended on us for guidance as they embarked search for the best company to install their metal roof. This is often a confusing and depressing journey with the powers that be, but we will guide and help with our professional experience along the way. We look forward to hearing from you and helping you fulfill your dreams as you explore the many options we will provide for you as you consider the many types (such as Standing Seam, Victorian stamped shingle )of beautiful metal roofs available to you.
Do you need a new roof?  Give us a call and we'll give you a free roof inspection! Click here to contact us: [button color="blue" link="http://alpharain.com/contact-us/" align="" target="_blank" font="0″ outer_border="true" outer_border_color="#303030″ icon="momizat-icon-phone"]Click Here[/button]