Leesburg Metal Roof Installation
Leesburg Metal Roof Installation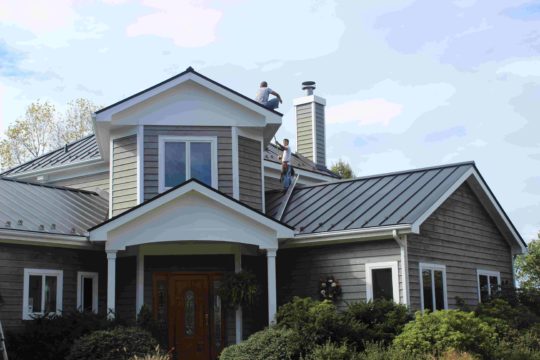 Our number is 540-222-1642 we are Alpha Rain the Metal Roofing Company.  Earlier this week we shot a video of a new metal roof installation being installed in Leesburg Virginia,  As you can see by the underlayment we do are not the average roofing company.  That foil looking underlayment is a radiant barrier.  We have three lines of metal roofing systems that can be installed on your house. 
The first is the basic system installation that would include a basic underlayment, along with our no leak W Valley, (Custom made only by Alpha Rain) are no leak diamond cut riglet around chimneys and wall flashing, and are custom onsite made drip edge and flashings.
The Second is our Premium system includes all the above plus has our Radiant Barrier, custom made venting through our drip edge for your attic, vented J Channel for a vented working ridge cap, and optional add on of our Solar powered optimized ridge fans (created custom for your house by us Alpha Rain, average houses need 10-20 of these optimized ridge fans spaced average 4-5 feet each).
Lastly is our Platinum System which includes the above plus our Patented self-venting under metal roofing ventilation system.  There are quite a few components to this system.  The best possible way to understand this system is for us to show you real samples in person.  Please take a look at our video below I show a similar sample and will explain about our Platinum metal Roofing system.
  If you would like a free estimate please call us at: 540-222-1642 and visit us on our site at AlphaRain.com
Please take a look at our video titled: Leesburg Metal Roofing Installation
For more info please fill out our form below and I will contact you.
 Thanks for reading the Leesburg Metal Roof Installation Article