Custom Made Metal Roofing Loudoun County VA
Custom Made Metal Roofing Loudoun County VA
We are Alpha Rain The Metal Roofing Company. We have created a patented roof ventilation system for Metal Roofing Loudoun County VA. We have installed over two dozen installations with this type of Ventilation system. I would like to describe the system pertaining to what the results were on a property our firm installed our new ventilation product on. We took the temperature level of the outside air and it was 96 and then we took the temperature of the attic and it was150 degrees. The once we installed the new ventilation system that we immediately tested the temperature and it was 96 in the attic at the base, and 103 at the peak and then it was still the same 96 degree outside.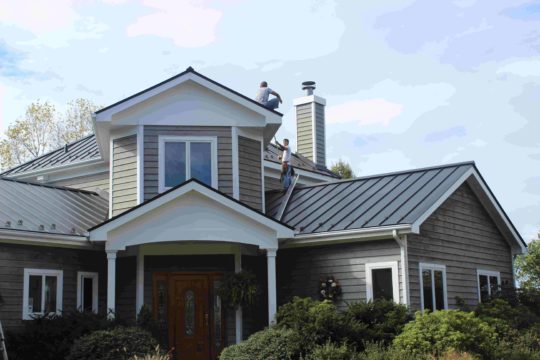 These results have certainly never been discovered in a technology that is truly within your means. Our firms have been investigating this style of venting technique for more than DECADE and the biggest issue related to the systems from the past was without a doubt the price associated installing it. The majority of the of the preceding solutions use a counter batten wood system, which even though this product may get some results the price tag is definitely way out of hand.  Also in an addition we are definitely using a great deal natural materials which with our new under roof ventilation system you do not need to use any wood. If you want obtaining solutions with regard to creating a cooler attic and saving you money in cooling costs, and also in the winter season getting the trapped wet air from even entering into your homestead then you should at minimum talk to our people and find out what exactly your solutions are. Our direct numbers are below and we are a low pressure business.
Underneath we have our details and contact important info, and also below I offer a web link to the Standing Seam Metal Roofing Alliance. This is where exactly you may search for contractors, in addition to just us Alpha Rain. We believe that our competition will not have the ability to deliver you products or services including our patented Therma Vent system or any number of our exclusive installation techniques. Take a look at the video clip listed below called Metal Roofing Loudoun County VA.
Alpha Rain installs exclusively the top of the line Steel Roofing Systems in which possesses a 35 year manufacturer's warranty on the Paint from Peeling or even fading by Sheffield Metals. We offer a low gloss flat coating prepainted steel roof in which takes full advantage of energy efficient. Our team is a part of the Metal Roofing Alliance as provided above, which is certainly an excellent place for getting further steel roofing details. Feel free to Contact our team to learn more or for a completely free price quote in the interest of Metal Roofing Loudoun County VA or if you dwell in or close to, Arlington, Fairfax, or any other part of Northern Virginia, Leesburg, or Charlottesville get in touch with our team for costs concerning your new metal roof.
Summary
Author Rating





Aggregate Rating
no rating based on votes
Brand Name
Alpha Rain Metal Roofing
Product Name
Under Metal Roof Ventilation
Price
USD $2.00
Product Availability
Pre-Order Only