Remarkable Ventilation System VA
Get Outstanding Ventilation System in Virginia
A proper ventilation system on residential homes and commercial offices is often the single most important factor you need to consider pertaining to a roofing system and attic. A metal roofing that has a good ventilation system along with properly installed material will be able to maintenance its durability and effectiveness over a long period of time. It will provide longer services and comforts you and your family at home with the idea that you will not have to replace your roof for the next 100 years. When it comes with commercial offices, it allows the area to become very conducive for work with a clean look and appearance for years to come.
Metal roofing is designed within buildings which are exposed to natural elements such as strong winds, blizzards, hail and sunlight. It works best with a suitable natural ventilation system in order to control the temperature under the roof and in the attic and living space.  However, most homeowners and commercial building proprietors still neglects this aspect and are not aware of how important a proper ventilation system is for roofs and attics alike.
What Constitutes a Good Ventilation System?
The principle of any ventilation system structure is the balance of the air that comes in and air that flows out. A proper ventilation system must consisted of proper air intake in order to make sure that the air is accurately ventilated under the roof and allowed to flow freely as the roof heats up and hot air naturally rises.
The ventilation system's opening allows the external air to come in to keep the outside air temperature the same as the base of the attic. The other ventilation system's opening at the ridge of the roof and attic will serve as the conduit to allow for the hotter air to escape as it naturally rises. This cycle of heat exchange regulates the temperature making your investment in roofing cost effective and there is even a ROI when you take into account the savings on electricity and prolonging you AC units as well.
When selecting a ventilation system, there are a few that work properly and based on budget you can choose from basis all the way to up the platinum ventilation system.  It is good to have a knowledgeable ventilation expert help inspect your attic and roofing system to be able to suggest the best possible ventilation options available.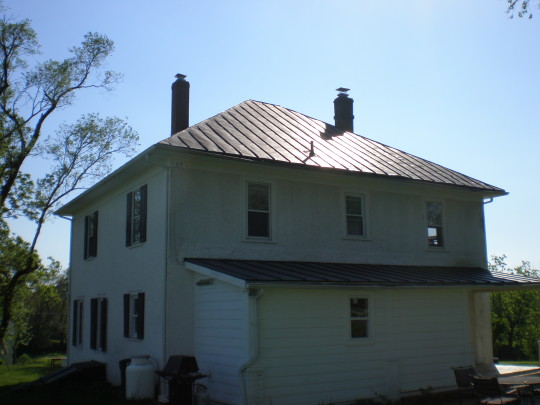 Metal Roofing VA
We Alpha Rain Incorporated, makers of high quality metal roofing and ventilation systems, serving in most parts of Virginia, have developed a patented under roof ventilation system. This patented ventilation system is installed with verified test and proven results on real homes.
Unarguably, for the past several decades, most ventilation systems involved a great amount of money with little real results. But, with our state-of-the-art ventilation system using eco-friendly techniques powered by thermal energy, your attic's air temperature will never be the same. We tested our innovative approach with 96 degrees outside air, and an extremely hot 149 degrees in the attic room. Once we installed our Therma Vent system we then waited for another day that was 96 degrees outside, and then tested the temperature inside the attic and it shrink down from 149 to 96.5 degrees.
Why us?
We Alpha Rain Incorporated are the most prestigious metal roofing company in VA and has been in the roofing and ventilation system for over 15 years solely installing metal roofing, and offering a 35 years of warranty concerning the paint on your metal roof.  An average house with our new metal roof will last over a hundred years.  A huge problem is ventilation since most of the older homes were designed with standing seam metal roof but back then they did not think about ventilation, we have solved this problem for old home and new alike with our panted under roof ventilation system called "Therma Vent". We will provide you with many references about your metal roofing and ventilation system. We look forward for the opportunity to meet you concerning about your metal roofing needs.