Authentic Ventilation System VA From Alpha Rain
Competent Ventilation System VA
An authentic ventilation system is a basic necessity for homes and commercial buildings. A certain house lacking a proper ventilation system is prone to roof problems and issues. A ventilation system is necessary in order to get rid of the extreme temperatures. An effective ventilation system will draw the outside air through openings which would be located at the lower part of the roof.  The cool air is only brought through those openings near the soffit by a properly working ridge vent. The hot air inside the ventilation system will eventually rise as hot air does and then be drawn out through the ridge vent.  This creates a draft effect and beings in, or pulls in the cooler air at the base openings near the soffit. Every construction is unique, innovative techniques must be applied in order to have a resolute volume of air intake, meaning the proper amount of air going out and coming in.
Effective home ventilation system
Ideal ventilation for home system must provide balanced air exchange which keeps the roof temperature manageable and the attic cooler especially during hot summer season. There are three natural enforcements to provide an efficient air exchange and these are the air pressure, thermal effects, and diffusion.
Ridge Vent and Under-Eave Venting
Years and years of research have proven that the use of vented ridge and under-eave venting is the most effective ventilation system you can use for residential homes and commercial buildings. A good ridge ventilation system has the most significant factor when it comes with the longevity of the metal roof. The metal roof can last long approximately 25% more compared with any other roof along with an effective installation and maintenance.
Alpha Rain Incorporated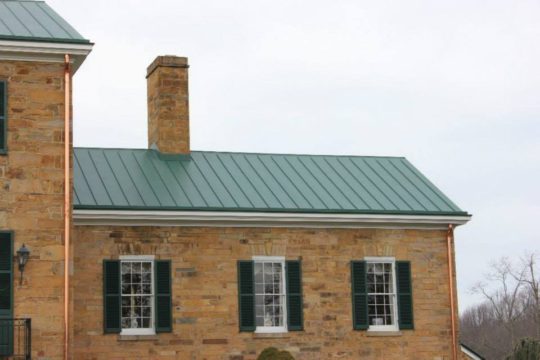 We, Alpha Rain Incorporated have been in the metal roofing and ventilation system industry for more than 15 years providing high quality metal roofing and effective ventilation system in mosts part of Virginia. For previous year of service, we learned that in this kind of climate, has a certain primary problem and that is an ineffective ventilation system or no ventilation in most homes at all. Therefore, we developed an affordable patented roof ventilation system for every residential homes and buildings designed with a custom vented ridge and with the possibility of adding solar powered fans. Our ventilation system is intended to reduce the attic temperature by sometime over 50 degrees. With years and years of experience, we designed an efficient, eco-friendly and affordable ventilation system for every homeowner who desires to have a comfortable homes interior temperature.
We have installed over 1,500 metal roofs in Northern Virginia. We are a small metal roofing company that provides remarkable ventilation system and metal roofs. We strongly believe that our competition in the roofing industry cannot and will not provide the same quality and efficiency like we do. We look forward to do business with you and meet and talk with you if you are planning to upgrade your roof to metal or for your ventilation needs. We will provide you numerous references and show you metal roofs most likely in the same color you desire that we have done in your area. Our roofs are energy efficient which are currently replacing older roofs in Virginia. In addition, we are proud to present to you our credible and authentic ventilation system VA that was only a theory just a decade ago. Our service includes standing seam metal roofs and stone coated metal roofs with the highest quality.